Coffee and honey might sound like the sort of ingredients that usually go into your breakfast, but together they can be used to make a homemade coffee and honey face scrub that can help to rejuvenate your skin.
They're two of the most popular natural skin care ingredients for a reason, with both anecdotal and scientific evidence that supports their use.
Let's take a look at what they can do for your skin and how you can make a coffee and honey face scrub for regular use.
The benefits Of Coffee And Honey Face Scrubs
Coffee and honey are both useful when applied to the skin. Here are some of the benefits you can expect to get from a coffee and honey face scrub:
Exfoliation

Honey contains a number of organic acids, with gluconic acid being the main one. These are hydroxy acids that have a very mild exfoliant effect, helping to remove dead skin cells from the surface of your face.

This is aided by the coarse grounds of coffee in the scrub, which further help to remove old skin and unblock clogged pores as you massage it into your face.
Antioxidant Protection


Honey contains a number of antioxidants including polyphenols and flavanoids. Coffee contains antioxidants like chlorogenic acid and caffeine (1).

This means that when applied to the skin the antioxidants from both that are absorbed can help to protect your skin from free radical damage caused by ultraviolet radiation after sun exposure, pollutants in the environment, and from the normal metabolic process.
Anti-aging


The ability of honey and coffee to exfoliate the skin and protect it from free radical damage helps you to reduce the appearance of lines on your face and protect the skin from their formation.
Moisturization


Honey helps the skin to retain moisture because it's a humectant.
Soothes Inflamed Skin


Honey and coffee both have anti-inflammatory properties that can help to calm irritated and inflamed skin.
Anti-acne


When used on the skin, honey can help to eliminate acne and pimple breakouts. This is largely because of its antibacterial properties, with tests involving kanuka and manuka honey showing a capability for killing the acne bacteria.
Make Sure You Use Raw Honey
If you want to get the full beauty benefits of using your coffee and honey face scrub then the best honey to use is an organic, raw honey. If you need any help in finding the right product, you can see our reviews of the best raw honey brands for face care.
A lot of the honey that is available to buy has been processed with heat and filtered. This often results in a removal of the good ingredients in honey, the antioxidants, enzymes, and vitamins that will be beneficial for your skin (2).
If you want the full range of benefits then buy raw honey, the darker the better, as darker honey is generally thought to contain higher levels of antioxidants.
How To Make A Coffee And Honey Face Scrub
Here is a recipe for you to try, involving coffee, honey, olive oil, and brown sugar:
Coffee, Honey, Sugar, And Olive Oil Face Scrub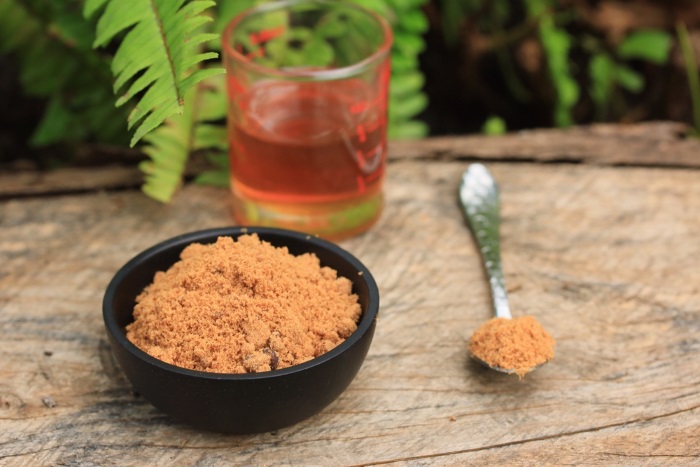 1. Get some organic ground coffee, a jar of raw honey, a bottle of virgin olive oil, and a packet of brown sugar.
2. Add a 1/4 of a cup of the coffee to a small bowl.
3. Add 1/2 a cup of brown sugar to the bowl.
4. Then add a 1/4 of a cup of honey.
5. Next add a cup of the olive oil (or another suitable oil for the face, such as coconut, almond, avocado, grapeseed, jojoba, or argan oil).
6. Mix the ingredients together well with a spoon.
7. Use your fingers to gently rub the mixture into your face for a couple of minutes.
8. If you like, you can now leave the mixture on your skin for a further 10-15 minutes, or rinse it off with water straight away.
9. Dry your face with a clean towel.
10. Keep the extra face scrub you have prepared in a sealed container in the fridge for another time.
11. Use a couple of times each week.
Side Effects And Precautions
Most people will not have any problems with using the ingredients in this face scrub, but if you haven't used them before then its best to test a small amount of the face scrub on your wrist. Leave it on the skin for 15 minutes to see if there is any reaction from your skin.
Use a natural sunscreen each day when you go outside when you are using a face scrub to exfoliate.
People with pollen allergies may be allergic to honey.
Honey should not be used on infants who are less than 1 year old or by breastfeeding women (3).
Final Thoughts
Honey and coffee both contain ingredients that are good for your skin and can assist you in anti-aging and protective skin care.
When used in a facial scrub they can help you to get soft, smooth, moisturized skin, and reduce the presence of fine lines.
Have you used a coffee and honey face scrub? Please share your experience.