Recent times have seen an explosion in the interest in using avocado oil.
It's a facial oil that is absorbed quickly and has excellent skin penetration, which makes it ideal for use in home skin care preparations.
The range of benefits it has for the skin also make it an excellent choice to use as part of your daily routine.
But, with so many options available on the market, which one should you buy?
We've researched more than twenty products to find the best avocado oil for skin care.
| The Best Avocado Oil For Skin Care | |
| --- | --- |
| | |
| | |
| | |
| | |
Why You Should Use Avocado Oil On Your Face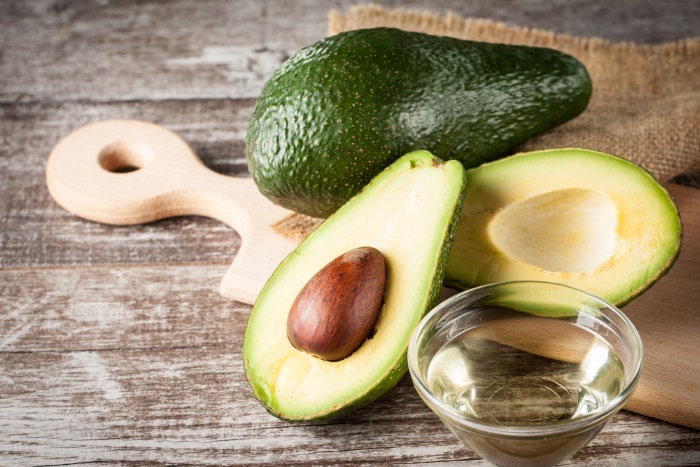 Avocado oil has a number of scientifically proven benefits for the skin, including an ability to:
Most people choose to add it to their skin care routine for its moisturizing properties (1), which particularly help those who are suffering from dry skin, as well as skin conditions like eczema and psoriasis where its anti-inflammatory properties also can have a beneficial effect.
But, avocado oil also offers antioxidant protection from the skin damaging effects of sun exposure and environmental pollutants (2).
Another good reason to use this facial oil is that scientific studies also indicate that it increases the amount of collagen found in your skin, which helps to reverse the visible signs of aging such as wrinkles, fine lines, and skin sagging (3).
What Type Of Avocado Oil To Use
You should look to buy a high-quality organic cold pressed avocado oil. This will have the full range of benefits for your skin due to containing the most active phytonutrients, that can be lost during the process of making the refined oil from the pure, unrefined oil.
What Is The Best Avocado Oil For Skin Care?
This is our list of the best organic cold pressed avocado oil brands for skin:
The Best Avocado Oil Brands
Beauty Aura 100% Pure Avocado Oil
This 100% pure avocado oil has been carefully processed so that none of the important phytonutrients are lost.
There are no additives or preservatives that have been added to this product, and it's been produced under strict quality control in the USA.
It's easily absorbed by the skin and works as an effective moisturizer, smoothing rough and dry skin.
It helps to reduce the signs of skin aging, with reduced appearance of wrinkles after regular use.
It can be used on all parts of the body, and on the hair, and is non-greasy after application.
It comes in a big 16 Fl. Oz bottle that will give you a lot of use.
Renewalize Organic Avocado Oil
This organic avocado oil is cold pressed and is a 100% pure and natural product with nothing else added to it.
It's USDA certified organic.
It has almost no odor, which makes it ideal for use on the skin and hair during the day.
It comes in a dark amber glass bottle, which helps to keep the avocado oil protected from sunlight, preventing oxidation and increasing its shelf life. The dropper that comes with the bottle allows for precise application without the risk of excessive use or spillage.
People are often thrilled with how quickly their skin improves in moisturization and appearance after using this facial oil.
Renewalize are so confident that you will like their product that they offer a 1 year money back guarantee if you use their product and don't see a satisfactory improvement in the condition of your skin or hair.
Sky Organics 100% Pure Avocado Oil
This avocado oil is another 100% pure and cold pressed oil. It can be used for skin care and for cooking.
It's clear and odorless and quickly absorbed when applied to the skin.
It comes in a plastic bottle with a pump top for easy dispensation, and a flip top lid if you prefer.
It's excellent for dried and chapped skin, and helps to relieve skin conditions like eczema and fade the dark spots caused by hyperpigmentation.
Where To Buy Avocado Oil For Skin
Organic cold pressed avocado oil can be bought online or in the shops.
Final Thoughts
Avocado oil is great for skin care. It's an excellent moisturizer that is quickly and easily absorbed by the skin, and also offers antioxidant protection that can help to keep your skin looking young.
In addition, regular use of avocado oil can increase the amount of collagen found in the skin which can help to reduce lines and wrinkles.
If you are searching for the best avocado oil for skin, our favorite can be seen on Amazon here: