Mint has been used for thousands of years for its culinary and medicinal properties.
For the ancient Greeks and Romans it was an important herbal medicine, and dried peppermint leaves have been discovered in ancient Egyptian pyramids that date as far back as 1000 BC.
It also has benefits when used for skin care, and in particular the treatment of acne.
In this article I'll show you the benefits that mint has for your skin, and how to use mint leaves for acne.
What Is Mint?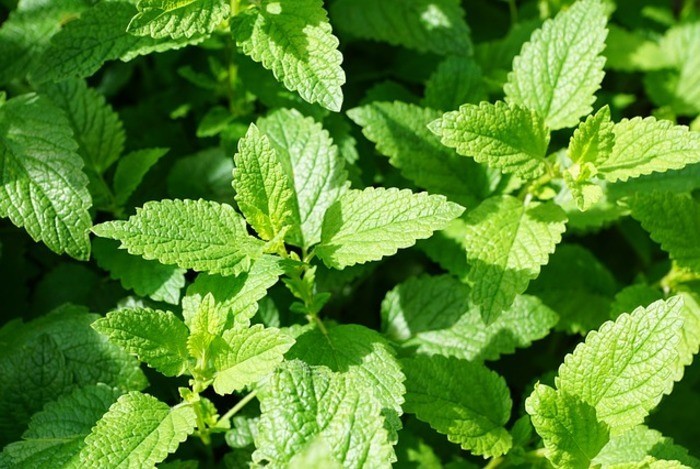 Mint, also known as pudina, is a family of plants containing about 18 closely related species. It can be found across Asia, Africa, Europe, North America, and Australia.
Of particular use is American wild mint, and peppermint, as these contain menthol which is responsible for some of the attractive qualities of the plant. These are the species most widely grown and of greatest commercial importance.
These mints are commonly used for cooking, and are found in a range of cosmetic products. Peppermint has been heavily researched for its medicinal properties, including the ability to treat:
It can also be used in the treatment of acne.
The Benefits Of Mint For Acne
Mint has a number of effects when applied to the skin that are beneficial for treating acne. Some of these effects are because of the menthol content, so it's best to use mints like peppermint for topical application.
Menthol has a scientifically proven antibacterial effect against a range of bacteria (1).
In one study, it was demonstrated that mint essential oil was effective against the acne-causing bacteria P. acnes (2).
When applied to the skin, preparations of mint species that contain menthol can kill the harmful bacteria and reduce the infection.
Mint leaves contain a number of phytochemicals which act as powerful antioxidants (3).
These phenolic compounds and flavanoids can help to protect the skin from the oxidative damage caused by exposure to ultraviolet light from the sun.
This is useful in preventing acne. One of the main stages in the formation of acne is oxidative damage that happens to sebum in the skin's pores as a result of ultraviolet radiation (4).
This causes the pores to block and the acne bacteria to grow and cause the infection which results in acne lesions on the skin.
Topical antioxidants can prevent this process from occuring.
Another key stage in the formation of acne is the immune response of your body to the bacterial infection. This gives rise to the red, painful swellings that characterize the condition.
Studies have shown that menthol acts as an anti-inflammatory (5). It can suppress the immune response and could help to prevent and reduce the inflammation associated with acne.
Analgesic And Antipruritic
Menthol has analgesic and antipruritic properties. When applied to the skin it causes a cooling sensation which can soothe pain and itching (6).
This can alleviate some of the irritation caused by acne, and stop you from scratching and spreading the infection.
How To Use Mint Leaves For Acne Treatment
Mint leaves can be used in a variety of ways to treat acne and pimples. They can be used as a face mask on their own, and combined with other effective natural acne treatments for an enhanced effect.
They can also be used to make tea and juice that have a beneficial effect when you drink them.
Here are some recipes and ideas that you can try:
Homemade Mint Face Masks For Acne Prone Skin
Mint Face Mask – On Its Own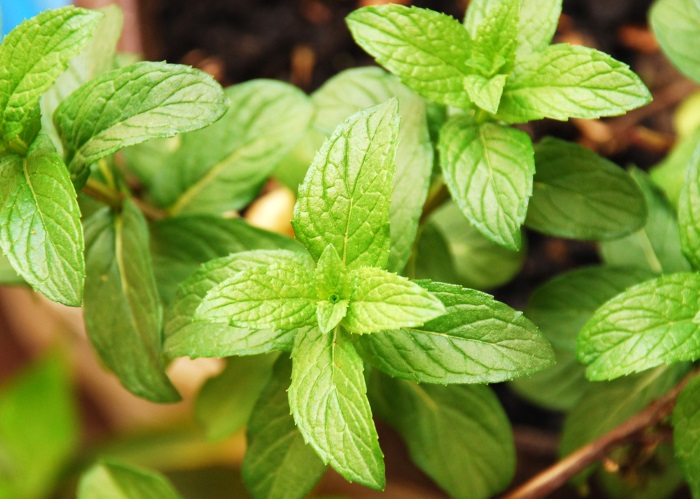 1. Get 2 cups of fresh mint leaves.
2. Grind the leaves using a pestle and mortar.
3. Add a small amount of water to the leaves as you grind them until you make a thick paste.
4. Apply the paste to your skin using your fingers.
5. Allow the paste to dry on your skin before washing it off again.
6. Use 2 times per week.
Mint And Turmeric Face Mask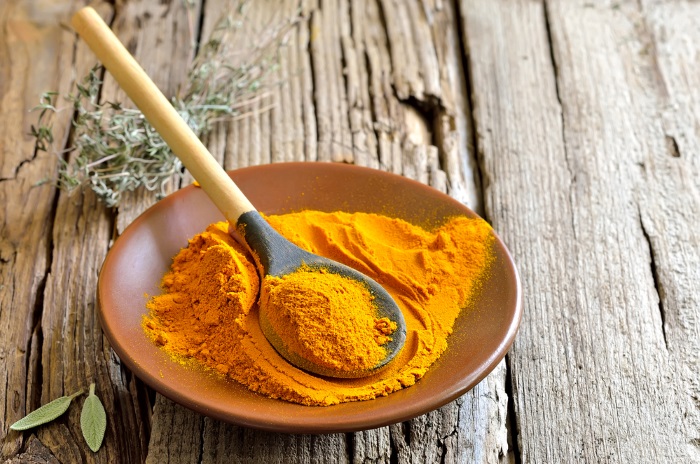 Turmeric has been used for beauty and skin care purposes for hundreds of years.
The curcumin it contains gives it strong antibacterial properties that can get rid of the bacteria responsible for acne (7).
1. Prepare the mint paste as in the mint face mask instructions above.
2. Get some turmeric powder.
3. Add 1 teaspoon of turmeric powder to the mint paste and stir together well using a fork or spoon.
4. Apply the mixture to your skin with your fingertips.
5. Leave the mint and turmeric face mask on for approximately 20 minutes.
6. Wash and dry your face.
7. Use the face mask 2 times per week.
Mint And Fuller's Earth (Multani Mitti) Face Mask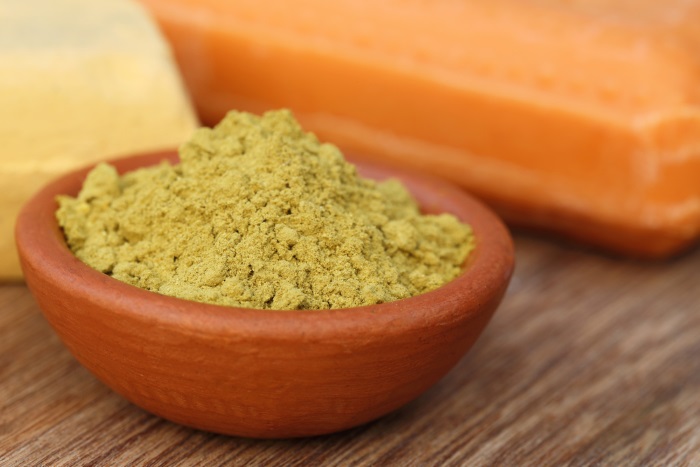 Fuller's Earth is a clay that helps to absorb excess sebum from the skin.
Face masks using Fuller's Earth can be drying for the skin, so people with dry skin already should be careful about using it.
1. Get some Fuller's Earth and some fresh mint leaves.
2. Prepare the mint paste as described above.
3. Add 1 tablespoon of Fuller's Earth to the paste and mix together.
4. Add more water as required to produce a thick paste.
5. Apply the face mask to your skin using your fingers.
6. Allow the face mask to dry on your skin for about 20 minutes.
7. Wash it off your face before the clay face mask starts to feel flaky.
8. Use twice per week if you have oily skin.
Mint And Yogurt Face Mask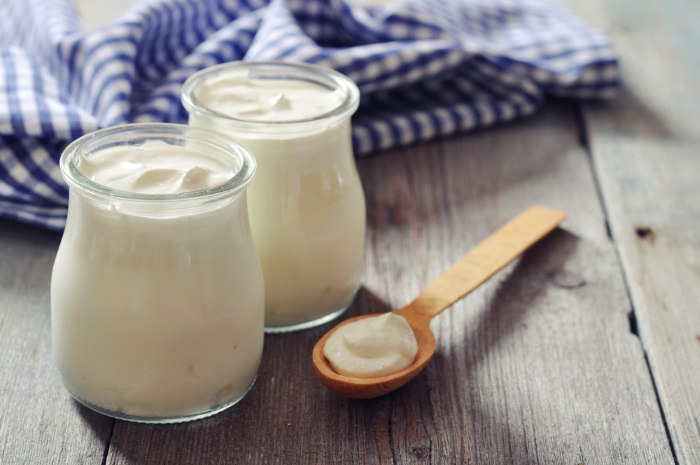 Yogurt contains probiotic bacteria that help your skin to fight off an acne infection (8).
1. Get some fresh mint leaves and a carton of plain Greek yogurt.
2. Follow the directions given above for making the mint paste.
3. Add 1 tablespoon of yogurt to the paste and mix together thoroughly.
4. Apply the mixture to your face.
5. Leave the mixture on your face for 15-20 minutes.
6. Wash the face mask off using warm water and pat dry with a towel.
7. Use this face mask up to 2 times each week.
Mint And Avocado Face Mask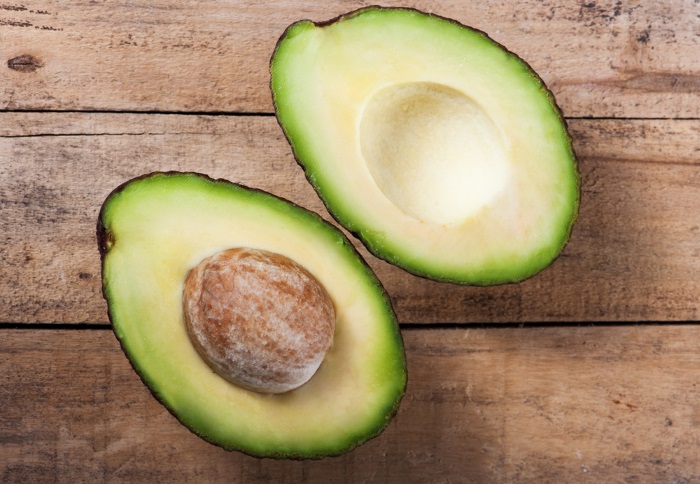 Avocado is useful for acne because it contains antioxidants that protect the skin, and has anti-inflammatory properties that help to soothe the painful acne swellings.
Avocado face masks are a popular home remedy for acne, and can be combined with mint for enhanced effects.
1. Get some fresh mint leaves and a ripe avocado.
2. Prepare the mint leaves as described in the mint face mask recipe above.
3. Slice the avocado in half and remove the seed from the middle.
4. Select one half of the avocado.
5. Take a spoon and scrape the avocado fruit from the peel into the bowl containing the mint paste.
6. Use a fork to mash the avocado together with the mint paste until it's smooth.
7. Use your fingers to put the face mask on your face.
8. Wash it off after about 20 minutes.
9. Use a couple of times each week.
Spearmint Tea And Peppermint Tea For Acne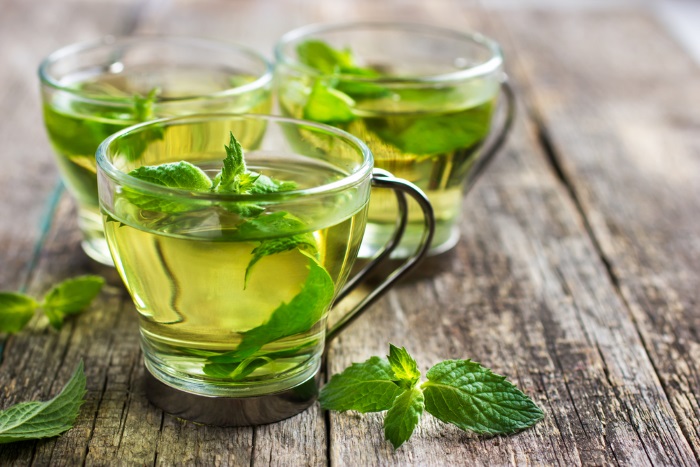 1. Either get some dried and ground spearmint leaves, or some fresh leaves.
2. If you have fresh leaves, chop up 1.5 teaspoons worth into small pieces.
3. Place the 1.5 teaspoons of freshly chopped leaves, or 1 heaped teaspoon of dried and ground leaves, into a cup.
4. Boil a kettle, and pour the water into the cup.
5. Allow the leaves to steep for about 10 minutes.
6. If you want, you can add a small amount of honey to sweeten the flavor.
7. Drink 2 cups of spearmint tea each day.
8. You can replace the spearmint with peppermint to make peppermint tea for acne.
Is Spearmint Tea Good For Acne?
Spearmint tea can help to treat hormonal acne.
Hormonal acne is caused by hormones called androgens that increase sebum production in the sebaceous glands of your skin. This results in an increased likelihood of your skin's pores becoming blocked and developing an acne infection (9).
Spearmint is capable of reducing the level of androgens in your body as studies have shown that it's antiandrogenic (10). This can prevent hormonal acne from developing.
Males should be careful about drinking spearmint tea for acne as androgens include the male sex hormone testosterone. Drinking large amounts of spearmint tea could reduce male libido and sperm count (11).
Is Peppermint Tea Good For Acne?
Unlike spearmint, peppermint has not been confirmed to be antiandrogenic in humans due to a lack of studies.
However, it has been shown to be antiandrogenic in rats and so it's possible that it will have the same effects as spearmint tea when treating hormonal acne, with the same caution advised for males (12).
How To Make Mint Juice For Acne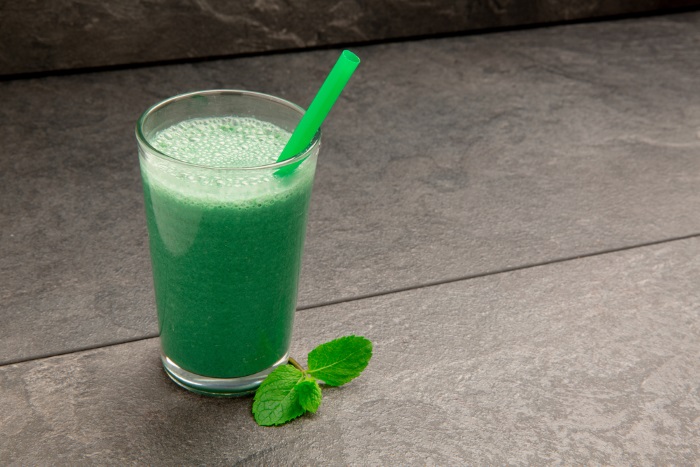 Instead of tea you can drink mint juice instead if you prefer. The benefits of drinking mint juice are the same as for the tea.
1. Get 1/2 a cup of fresh mint leaves.
2. Put the mint leaves in a blender.
3. Add 1/2 a cup of water.
4. Blend it until you have a smooth puree.
5. To enhance the flavor of the mint water, you can now add 1/2 a tablespoon of honey, 1 1/2 tablespoons of lemon juice, and salt and pepper to suit your taste, if you want to.
6. Blend the ingredients together
7. Now add 2 1/2 cups of water and blend until it's all mixed.
8. Chill in the refrigerator or serve with ice cubes for a refreshing, acne-fighting drink.
Side Effects And Precautions
As mentioned above, males should be careful about drinking too much mint tea or juice as it can reduce testosterone levels.
Before using a mint face pack for the first time, it's a good idea to do a quick patch test on your wrist to check if your skin has any reaction to the ingredients.
People with a salicylate allergy should avoid using mint as it contains acetylsalicylic acid (13).
Mint tea and face masks should not be used by small children, as mint can cause breathing problems (14).
Pregnant and breast feeding women should consult their health practitioner before using herbal remedies like mint.
Likewise, if you are taking medication or have health problems, you should check with your doctor first.
Final Thoughts
Mint has a number of properties that make it useful in the treatment of acne, both when applied to the skin as a face mask and when it's drank as tea or juice.
But it does have some side effects that you need to be aware of before you start to use it heavily.
It can be easily combined with other natural remedies to increase the potency of an acne fighting face mask.
Have you tried using mint leaves for acne? Please share your experiences with us in the comments below!