Grapeseed oil has rightfully earned itself a reputation as one of the best oils to use on your face.
It's light and easily absorbed. And hydrates the skin, while protecting it from aging and acne.
Which is why it makes a great moisturizer and carrier oil to use for homemade skincare.
But finding the right product is important.
There are many different grapeseed oil brands available on the market.
And the truth is, the quality varies a lot.
If you're looking for the best grapeseed oil for your face then there are some essential things that you need to consider when making a choice. 
In our buying guide, we'll tell you the things you need to know to choose the best and avoid the worst.
And we'll show you our selection of the best brands that meet that criteria.
Our top grapeseed oil picks at a glance:
* The links above lead to Amazon
Buying Guide: How To Choose

These are the important questions to ask yourself when comparing different brands to find the best one:
Is It Organic?
Firstly, it's a good idea to make sure that the oil you're buying is organic.
This means that it's been produced without the use of any pesticides, herbicides, or chemical fertilizers.
And that no chemical solvents have been used in its extraction or production.
Why does this matter?
Well, to begin with, it's good for the environment.
But also, it's because chemical residues from the production process can remain in the oil.
And when you put it on your skin these can be absorbed.
I'm sure you'll agree with me when I say, that's something I'd like to avoid.
My idea of the best means the healthiest as well as effective.
We usually like to see certification from a regulatory body such as the USDA to prove that a product really is organic.
But genuinely organic grapeseed oil is actually quite rare. At present, only one brand in the US has certification, which you can see in our reviews below.
Organically grown plants also contain higher levels of important phytonutrients
What Is The Method Of Extraction?
Many conventional extraction methods involve heating the oil to squeeze as much out of the seeds as possible.
But, the introduction of heat can damage the beneficial nutrients and phytochemicals that the oil contains and deplete their content.
Which is no good for us, because those are the things we need to get the full beauty benefits of using the oil.
Instead, you need to look for an oil that's cold-pressed.
This procedure is done without the use of excessive heat.
It results in an oil that's rich in antioxidants, vitamins, and healthy fats that work wonders for your skin.
Is It Pure?
It may seem obvious, but you should always check the ingredients list for the product to make sure that what you are getting is 100% pure grapeseed oil.
Some products might contain a blend of oils or include other unwanted additives.
Is It Unrefined?
If you've selected an oil that's organic and cold-pressed then this will often be the case. But not always.
Unrefined oils are usually cold-pressed or expeller-pressed with minimal heat and contain all the goodness.
In contrast to refined oils, they don't go through any further processing to remove impurities or change the color or scent.
Refined oils are usually cheaper and are more stable. So they have a longer shelf-life.
But, the refining process can remove some of the beneficial phytonutrients.
In other words, you have a choice:
Between longer lasting and less of a scent on the one hand. Or an oil with more nutrients for the skin on the other.
Our selection below contains both kinds. But, we have a preference for the unrefined and completely natural type.
The Top Grapeseed Oil Brands
These are our reviews of the best grapeseed oil brands that meet our selection criteria:
Nature Certified
This product from Nature Certified comes in a 4 oz (120 ml) bottle with a pump lid. The bottle is plastic but is BPA free and non-toxic.
Not only is this oil organic, but it's also the only grapeseed oil in the US that is USDA certified. So it's guaranteed to be free of chemical contaminants.
This very high-quality oil has been extracted from the seeds of USDA certified organic Pinot Noir grapes from the California region of Sonoma.
These have a very high antioxidant content which helps to give it its anti-aging benefits.
It's cold pressed and unrefined. So it hasn't been deodorized like many refined products. This means that it has a distinctive wine-like smell, which disappears quickly after use.
Unrefined oils haven't undergone any further processing after they are cold-pressed, so are as natural as they come.
It has a small amount of natural vitamin E added to act as a preservative to extend its shelf-life.
Pros
Good for clearing up acne
Absorbed easily
Makes a great massage oil
USDA certified organic
Unrefined
Cons
Some people don't like the wine-like smell – but actually, this is a sign of its quality
The pump sometimes stops working
Sky Organics

This is a cold pressed and refined grapeseed oil that's suitable for all skin types including oily skin and dry skin.
It's an organic product that's completely free of all chemicals and synthetic ingredients. And it's good to know that it's a cruelty-free product that's vegan-friendly.
Sourced from Italy, it comes in a large 8 fluid ounce bottle with a pump dispenser. This makes it easy to use 3 or 4 drops at a time for your face, which is all you need. So this bottle will last a long time for the average person.
Importantly, it has received a lot of praise for having a long shelf life, as many other inferior brands can turn rancid quite quickly
It's effective as a moisturizer and will help your skin to look and feel smooth.
And it's good for nourishing and moisturizing your hair as well.
The company says that it has a 2 year shelf-life.
Pros
Light and absorbs quickly
Large value bottle
Long shelf-life
Cons
It's not certified, but they 100% guarantee that it's organic
Renewalize
This product comes in a 4 oz glass bottle with a dropper lid. The glass is dark amber to protect the oil from the sunlight and extend its life.
Renewalize say that it should be good for about a year. But you can increase its shelf-life by keeping it refrigerated.
It's cold-pressed, unrefined, and 100% pure. It also has a mild scent of red wine.
With regular use, this oil can help to soften and strengthen your hair. And it moisturizes the hair follicles and the scalp, reducing dandruff.
It's also good for your nails, encouraging them to grow shiny and strong. While moisturizing the cuticles.
Topical use leaves the skin well hydrated without feeling greasy.
Pros
Moisturizes the hair without leaving it feeling greasy
Unrefined
Comes in a dark glass bottle
Cons
Not the cheapest oil you can get, but it is high-quality
Organic, but no certification
As it's unrefined it has a noticeable smell
Fushi

Made in the United Kingdom, this product is cold-pressed, unrefined, and has been certified as organic by the UK Soil Association.
It's 100% pure, suitable for vegans, and comes in a 3.5 oz (100 ml) dark glass bottle.
Because it's unrefined it does have a slightly acidic smell.
But this is a very high-quality product that provides excellent soothing and moisturizing properties to your skin, hair, and scalp.
Pros
Moisturizes without making the skin feel oily
Certified as organic by the UK's leading certification body – which means that it also meets EU standards
Dark amber glass bottle
Cons
The same as some of the other unrefined oils, not everyone enjoys the smell
A smaller bottle than some of the other choices – so, not the best value choice, although undoubtedly among the best in quality
Botanical Beauty

This product from Botanical Beauty is a natural and unrefined grapeseed oil for skin, nails, and hair.
No additives or solvents have been used in the making of this oil, and no animal testing has been involved.
It comes in a 4 fluid ounce dark amber glass bottle, which helps to keep the oil in good condition for as long as possible. And it has a dropper for precise application.
The oil has a very faint scent of grapes that is almost unnoticeable.
Pros
Very faint smell
Dark amber glass bottle
Cons
Claims to be certified organic, but it's not clear who it's certified by
Why You Should Use It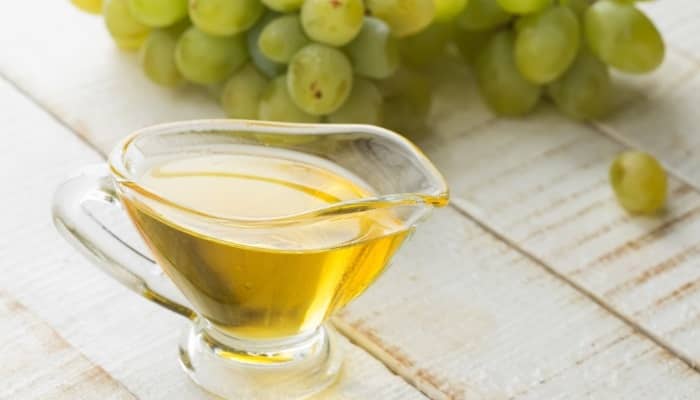 Grapeseed oil has a number of benefits for the skin and hair, including the ability to:
It's high in antioxidants such as vitamin E, and flavonoids.
These protect your skin from the free radical damage caused by exposure to sunlight and pollutants in the environment. Which helps to prevent the appearance of lines and wrinkles on your face.
And they can also help to strengthen hair. While the fatty acids such as linoleic acid give it a luscious shine and moisturize the skin. While also improving the health of your scalp.
It also contains oligomeric proanthocyanidins. These amazing phytonutrients have a very powerful antioxidant effect that's more than 50 times stronger than vitamins E and C (3).
They also have anti-inflammatory properties that are useful for inflammatory skin conditions such as acne.
And importantly, it's a light oil that's easily absorbed. So it doesn't leave you feeling greasy.
You can apply it on its own. And it's perfect to use as a carrier oil to mix with essential oils.
Conclusion
Grapeseed oil is a very effective moisturizer that also protects your skin from aging.
It's easily absorbed, and a large bottle of high quality, pure grapeseed oil can last you for ages!
Buying an oil that's organic, pure, cold-pressed, and unrefined will ensure that you get the very best quality.
Our favorite grapeseed oil for skin and hair available on the market today is the one from Nature Certified.